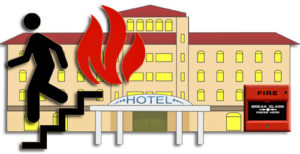 Hotel fire safety is a key concern for all hotel owners, managers and responsible persons. If a fire breaks out, potentially hundreds of people could instantly be forced into an emergency situation and your business could suffer irreparable financial and infrastructural damage.
The only way to help prevent tragedy is to take the appropriate actions and ensure you have adequate fire safety measures in place. Find out below how you can help improve fire safety at your establishment.
Why is hotel fire safety important? 
Hotels are busy places that are full of risks. Staff are occupied with lots of roles and don't necessarily communicate, the turnover of guests is high and there is a lot of information to retain and stay on top of.
In a hotel, having to deal with a fire can be even more problematic. As it is a sleeping accommodation, people will be in a more vulnerable state most of the time and the unfamiliar surroundings make escaping and responding to an emergency harder.
Hotel fires can develop fast and can cause huge amounts of damage to life and infrastructure. After all, preventing a fire is easier and safer than dealing with one.
What are the common causes of fires in hotels? 
Fire safety covers a lot of considerations and is not a one-off step. Outdated fire safety equipment, layout changes and organisation can greatly jeopardize your fire safety approach.
Damaged fire doors, broken smoke seals, clutter and ill-fitting doors in escape routes are some of the breaches frequently found in hotels that can lead to guests or staff becoming trapped or hindered during an escape due to smoke spread.
Cooking equipment, careless smoking and faulty equipment are the leading causes of fires in the hospitality industry but with the proper fire equipment and staff training, these fires can be contained or stopped before they take hold.
Regular cleaning of kitchens and especially extract equipment and ductwork is essential. Likewise, a good routine of planned preventative maintenance on laundry equipment and other appliances is a great fire prevention strategy. Early and appropriate reaction to a fire can save lives and serious damage, but being able to react in such a way comes from an adequate and enactable fire safety plan.
Why should you have a hotel fire safety plan? 
Are you confident that you and your staff could react quickly, confidently and proactively if an emergency developed? If your answer is no then you either don't have confidence in your hotel fire safety plan or you don't have one that's suitable enough.
The Regulatory Reform (Fire Safety) Order 2005 requires the relevant responsible person to ensure a fire risk assessment is carried out in all hotels. From the Fire Risk Assessment, you can evaluate the hazards in your hotel and decide on appropriate measures to reduce the risk.
Your fire risk assessment should be carried out by a competent person, and if you do not have the in-house expertise, Switch Fire Protection have qualified assessors to assist you. Rather than coming along and scaring you with a load of legislation, we'll work alongside you, explaining our recommendations, and tailoring our solutions to the needs of your hotel.
We can also provide Fire Safety Training for yourself and your employees. Not only is fire training in most businesses required by law, but it also makes sense. In hotels, the last thing your guests will be thinking about is fire safety so your staff need to know how to help themselves and the guests safely and efficiently
Fire safety equipment for your hotel
It's always good if your fire safety equipment is never put to the test, but if it does 99% reliability is not good enough. You need to know that the equipment is going to function in the right way at the right time.
Detection systems such as fire alarms should be maintained and tested to ensure that they're always ready to react and give guests and staff the best chance of dealing with the fire/escaping. Alarms must be loud enough and call points should be placed consistently throughout the premises.
Emergency Lighting & Fire Extinguishers and Fire Safety Signs should all be clearly marked, maintained and correctly specified for your hotel. Emergency lighting and signage will aid guests and staff in the event of an evacuation and staff training for fire-fighting equipment can quickly downgrade the risk of a fire should one start. In fact, more than 80% of fires in industrial premises are put out using fire extinguishers. These are not big fires, but they would have been 5 minutes later!
Does your fire safety plan meet regulations? 
The penalty for failing to meet fire safety regulations in the Magistrates' Court is an unlimited fine and the person responsible for fire safety will be prosecuted as an individual, not as a company.
How can Switch Fire Protection help you? 
Many businesses don't reopen after the devastation of a fire. Don't let your hotel become one of them.
At Switch Fire Protection, we're prepared for any challenge. Don't risk putting staff, guests and businesses in trouble from risks that could have been prevented. No matter how big or small, our qualified team can provide services to improve the fire safety of your hotel.
Is your hotel fire safety up to standard? Talk to us about an assessment. Contact us today on 07854 981493 or email info@switchelectrical.co.uk